Wild coasts and warm welcomes
The community of Port Hardy is renowned for its remote coastal scenery and warm cultural connections. Enjoy the hospitality of this remarkable region as you embrace the wilderness that surrounds this remote outpost.
A feeding frenzy in Port Hardy
Birding
Hardy Bay Seawall

7250 Market St, Port Hardy, BC V0N 2P0

Starting at the Visitor Centre in downtown Port Hardy, the seawall is a leisurely stroll that features stunning views of the mainland mountains and interpretive signage about the region's wildlife. Along the way you will pass the Japanese Gardens, towering totem poles and a number of entrances down to the rocky beach. The birdlife along the seawall is abundant, with shorebirds and waterfowl being the most common to spot, including recent sightings of Black Turnstone, Horned Grebe and Rhinoceros Auklet. Extend your walk by connecting to the Estuary Trail which takes you to the Quatse Estuary Viewing Platform. 

Fort Rupert / Commuter Trail

6520 BC-19, Port Hardy, BC V0N 2P0

This hike takes you on a historic walk through Kwagu'ł territory that was used to commute between the villages at Tayaguł and Bear Cove. Today this hike takes you through first and second-growth forest on a network of gravel trails and boardwalk with a small pond to rest at. While not the most well documented birding location, the abundance of wildlife in the general area make it a worthwhile walk to immerse yourself in this incredible ecosystem.

Coastal Rainforest Safaris

7185 Market St Unit 4A, Port Hardy, BC V0N 2P0

Coastal Rainforest Safaris delivers exciting wilderness experiences rooted in the culturally rich territories of the Kwakwaka'wakw people.

Take a tour with Coastal Rainforest Safaris to the Islands surrounding the northern tip of Vancouver Island where the magic and excitement of the breeding colonies unfolds. This globally significant Important Bird Area is host to 12 species of seabirds numbering almost 2 million individuals including over 90% of the Canadian population of Tufted Puffins along with 55% of the global population of Cassin's Auklet.

Book Now
Quatse River Estuary
Birding
Quatse River Estuary Trail & Viewing Platform

Goodspeed Rd, Port Hardy, BC V0N 2P0

The ecological significance of the Hardy Bay area and Quatse River Estuary have placed this biologically diverse region into the top ten estuaries on Vancouver Island. Part of the Pacific Flyway, the area sees over 160 species throughout the year with up to 60 species of waterfowl overwintering in this important habitat. Explore the expansive trail system that loops its way along the shore of the Quatse River, or take a stroll out to the strategically placed covered viewing platform to examine the quiet waters of the estuary. Common sightings include Northern, Shovellers, Green-winged Teal, Harlequin Duck, Trumpeter Swans and during the fall salmon run season especially, Bald Eagles.

Storey's Beach

5765 Beaver Harbour Rd, Port Hardy, BC V0N 2P0

This popular sandy beach is a local favourite during the summer months for shoreline recreation, with a lively atmosphere and great amenities for families. Come shoulder season however, particularly on a foggy west coast morning,  you could likely have this spectacular beach to yourself. At low tide the ocean reveals an expansive intertidal zone that attracts a number of shorebirds such as the Long-billed Dowitcher and Dunlin, while the surrounding forests hosts songbirds and birds of prey. With over 130 species known to visit the area, timing a visit to this site for the low tide can prove a productive outing.
Bird watching in Port Hardy
Cafe
Cafe Guido

7135 Market St, Port Hardy, BC V0N 2P0

This cafe serves a variety of specialty coffees, teas, smoothies, as well as fresh baked goods and paninis. Located in the heart of Downtown Port Hardy, it's the perfect first stop to any adventure in the area.

Kwa'lilas Cafe

9040 Granville St, Port Hardy, BC V0N 2P0

Located in the Kwa'lilas Hotel lobby, the Kwa'lilas Cafe is open daily from 7am-3pm. Tasty takeaway treats, breakfasts and lunches are available to start your day.

Market Street Cafe

7030 Market St, Port Hardy, BC V0N 2P0

Cozy cafe offering fresh baked breads, pastries, jam, and all day breakfast! They also serve lunch items like burgers and sandwiches after 11.
Along the Quatse River, Port Hardy
Food
Glen Lyon Restaurant

6435 Hardy Bay Rd, Port Hardy, BC V0N 2P0

Family restaurant with awesome ocean views at the Glen Lyon Inn. They source local ingredients whenever possible to bring you fresh dishes reflecting the region. Stop by for breakfast, lunch or dinner!

Nax'id' Pub

9040 Granville St, Port Hardy, BC V0N 2P0

Visit this gem located at the Kaw'lilas Hotel for a unique dining experience. They serve dishes inspired by the rich tapestry of local ingredients and the flavors of First Nations cuisine.

Sporty Bar

8700 Hastings St, Port Hardy, BC V0N 2P0

Laidback restaurant with an extensive menu of classic comfort foods like burgers, pizza, and fish and chips, with vegetarian and gluten-free options available. Stop by to enjoy a delicious meal, play a game of pool, or watch the game.
A flock of gulls, Port Hardy
Food
Macy's Place

8665 Hastings St, Port Hardy, BC V0N 2P0

Food truck in downtown Port Hardy offering hot and fresh eats like burgers, tacos, and fish and chips. Their seafood is always fresh and locally sourced!

Seto's Wok and Grill

9250 Trustee Rd, Port Hardy, BC V0N 2P0

Casual restaurant offering a mix of Chinese and Western dishes. They also have set combinations for group dinners so you can try a variety of dishes. 

Quarterdeck Restaurant

6555 Hardy Bay Rd, Port Hardy, BC V0N 2P0

Located at the Quarterdeck Resort and Marina, this spot serves casual pub fare, and fresh seafood daily. They are also open for breakfast and brunch.
Shorebirds, Port Hardy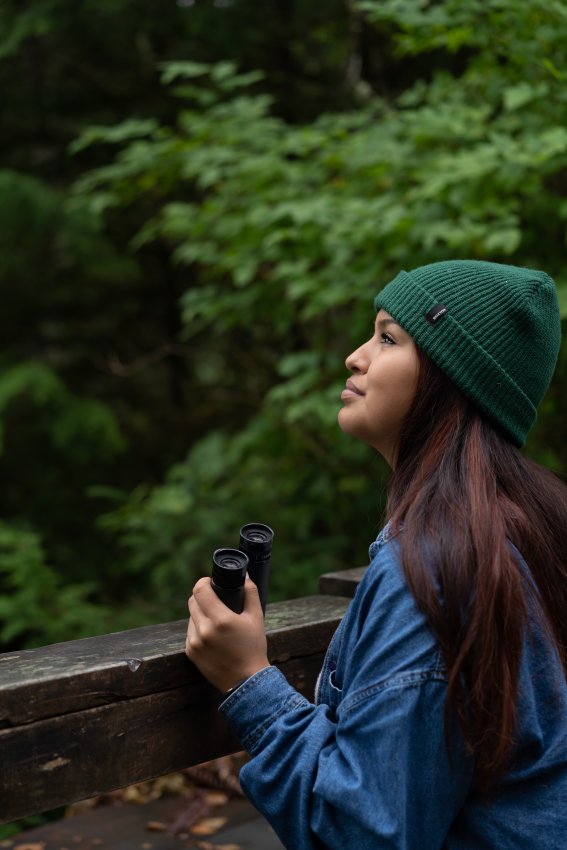 Deep in the coastal Rainforest, Port Hardy
Accommodations
Kwa'lilas Hotel

9040 Granville St, Port Hardy, BC V0N 2P0

Four-star First Nations Hotel offering premier rooms and high-end amenities. The hotel boasts 85 beautiful rooms, and a large collection of local Aboriginal art throughout the hotel. The hotel also offers eco-adventure tours and cultural experiences, guided by community members and local experts.

Book Now

Glen Lyon Inn

6435 Hardy Bay Rd, Port Hardy, BC V0N 2P0

Enjoy modern deluxe rooms nestled on the stunning Hardy Bay. Every room and suite offers picturesque views of the water, and their location is conveniently close to downtown Port Hardy.

Book Now
Sea Otter, Coastal Rainforest Safaris
Accommodations
North Shore Inn

7370 Market St, Port Hardy, BC V0N 2P0

Located in downtown Port Hardy, the North Shore Inn is steps from the ocean and surrounding jumping off points for adventure. Plus, there's a popular Japanese restaurant right on-site.

Book Now

Ecoscape Cabins

6305 Jensen Cove Rd, Port Hardy, BC V0N 2P0

Ecoscape Cabins offer a nature-centric vacation surrounded by 15-acres of picturesque forest. The thoughtfully designed eco-friendly cabins are close to scenic beaches, lush rainforests, and a multitude of hiking trails.

Book Now
Belted Kingfisher, Port Hardy
Accommodations
Bear Cove Cottages

6715 Bear Cove Hwy, Port Hardy, BC V0N 2P0

Luxurious cabins nestled in the vibrant wilderness of northern Vancouver Island. Enjoy a personal hydrotherapy tub and wood burning fire in each cabin. Bear Cove Cottages also offer guided tours and charters.

Book Now

Airport Inn

4030 Byng Rd, Port Hardy, BC V0N 2P0

This conveniently located hotel is within walking distance from the airport, and just a few minutes drive from the ferry terminal. They offer comfortable rooms, an on-site restaurant and cold beer and wine store.

Book Now
Sealions, Coastal Rainforest Safaris
Explore More
Local events in Port Hardy
Find out about events happening in Port Hardy during your visit.
Learn More
Cape Scott Provincial Park
An absolutely stunning provincial park located on the Northern tip of Vancouver Island, Cape Scott Provincial Park is a destination like no other. With miles of uninhabited shoreline, thick coastal rainforests and wildly unfettered habitats, you are likely to find yourself in sparse company in this super natural park.
Explore More
Itineraries
Continue
The Vancouver Island North Bird Trail
GILAKAS'LA. Our Vancouver Island North communities are located on the traditional territory of the Kwakwaka'wakw people, who have been stewards of this land since time immemorial.