A River Runs Through It
Just off the beaten path, the eighty kilometre Chilliwack River runs parallel to the mighty Fraser, providing a natural home to many of the area's unique wildlife species on either side. This stretch of land boasts forested landscapes and beaches along the river, ending at Chilliwack Lake.
Great Blue Heron Nature Reserve
Birding
The Vedder River Rotary Trail

Entry at Lickman Road

Starting at Vedder Park, bike or walk this 21km looped trail along the Vedder River. You can also detour partway through to head up to the Great Blue Heron Nature Reserve.

Great Blue Heron Nature Reserve

5200 Sumas Prairie Rd

Home to one of the largest heron nesting colonies in the Lower Mainland, this facility includes an interpretive centre managed by the Great Blue Heron Nature Reserve Society and multiple trails outfitted with bird blinds. Head up to their observation tower for a "heron's eye view".
Field Notes
Stories from The BC Bird Trail Vol. 2
Discover the fascinating story behind Chilliwack's Great Blue Heron Nature Reserve in our latest Story from The BC Bird Trail video.
Read
Cafe
Amble Coffee

45450 Petawawa Rd

A quaint coffee truck serving 49th Parallel coffee, nestled right in the forest of Vedder Park. Enjoy a fresh cup close to the river.
Great Blue Heron by Shayne Kaye
Food
The Local Harvest Market

7697 Lickman Rd

A sustainable local farm and market providing the community with fresh fruits and veggies. Their Market Bakery bakes fresh, organic sourdough bread and pizzas, perfect for lunch on the go.

Garrison Bistro

45555 Market Way #6

A friendly neighbourhood bistro using local ingredients and products to serve comfort food with a twist. Open for brunch, lunch, and dinner.

Farmhouse Brewing Co.

6385 Lickman Rd

Socialize while you enjoy a delicious craft beer and meal in a friendly and welcoming environment.
Shopping
Mt Waddington's Outdoors

5643 Vedder Rd

Gear up for your adventures at this premier outdoor retailer that also offers rentals on backpacks, tents, and more for easy outdoor exploration.

Stó:lō Gift Shop

7201 Vedder Rd

 A curated selection of unique Stó:lō and Aboriginal arts, crafts, and gifts. 
Stó:lō Gift Shop by Alicia Haque
Accommodations
Vedder River Inn

5788 Vedder Rd

Located in the central Vedder Crossing neighbourhood, enjoy modern suites and close access to the natural beauty of Chilliwack.

Hampton Inn

8050 Lickman Rd, Chilliwack, BC

Only a half-mile from Chilliwack restaurants, the Hampton Inn is located just off Highway 1 – close to the famed Chilliwack Heritage Park, Coliseum, and Cultural Centre.
Passing Through the Valley of Many Streams
Let the quiet hum of the local waters, which often host herons and kingfishers, be your soundtrack as life slows down.
Cheam Lake Wetlands Regional Park by Hubert Kang
Birding
Island 22 Regional Park

44955 Cartmell Rd

A 132-hectare park featuring walking trails, an off-leash dog park, and a bike skills park, as well as equestrian and boat launch facilities.

Cheam Lake Wetlands Regional Park

Entry on Elgey Road

A 107-hectare park made up of lake, marsh, and forested areas. Known to be home to over 180 different bird species.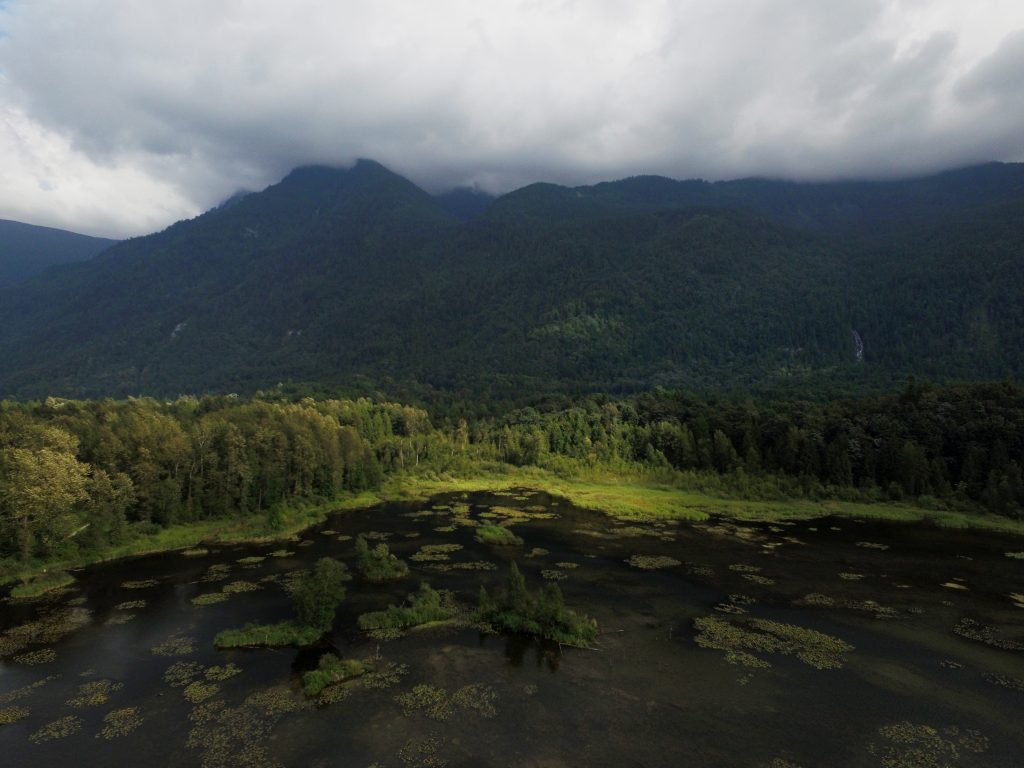 Field Notes
Exploring the Fraser Valley Bird Trail
The Fraser Valley Bird Trail follows the flow of the Fraser River through four distinct communities, with ample birding opportunities around each bend. As the longest river in the province, the Fraser River's fertile habitats include dense forest, wetland, farmland, and more. Home to many resident birds, this area also welcomes more than 200 distinct…
Read
Cafe
Cultivate Cafe

10015 Young Rd

A family-run cafe connecting the community with refreshing brunch and lunch dishes using local ingredients. Vegetarian and vegan options and a kids menu are available.

Harvest Store & Cafe

9381 Mill St

Feel right at home at this family-run bakery and cafe. Nourishing breakfast and lunch options are available, as well as freshly baked cookies and muffins.
Food
Bow and Stern

201-46140 Yale Road

Enjoy good food and drinks while socializing in a fun, welcoming, and enjoyable atmosphere, in this locally owned and family-run restaurant.

Bravo Restaurant

46224 Yale Rd

Pacific Northwest cuisine in a casual, yet elegant atmosphere. Enjoy shared plates, mouthwatering mains, or try the Chef's five-course tasting menu.

Shandhar Hut Indian Cuisine

8835 Young Rd

Family-owned and operated, this North Indian inspired restaurant has dishes that are prepared with care that use fresh, local ingredients.
Spotted Towhee by Shayne Kaye
Shopping
District 1881

46140 Yale Rd

Located in downtown Chilliwack, this is a walkable, heritage, cultural hub where locals come together, and where entrepreneurs set up shop with local retail.

The Book Man

45939 Wellington Ave

A community favourite, this carbon-neutral bookstore not only has a huge selection of books and vinyl LPs, they also have two friendly store cats named Beatrix.
Accommodations
Royal Hotel Chilliwack

45886 Wellington Ave

Established in 1908, this historic boutique hotel is nestled in the heart of Chilliwack, conveniently close to many restaurants and coffee shops.

Book Now

Coast Hotel

45920 First Ave, Chilliwack, BC

This beautifully renovated full-service hotel provides a refreshingly local downtown Chilliwack experience, close-by to some of the regions most noteworthy points of interest.
Explore More
Attend monthly educational events at Great Blue Heron Nature Reserve
Explore More
Itineraries
Continue
The Fraser Valley Bird Trail
The traditional territories of the Sts'ailes, Seabird Island, Sq'ewá:lxw, Cheam, Douglas, Leq'a:mel, Samahquam, Sq'ewlets, Skatin and Stó:lō Coast Salish Peoples, as well as the Katzie, Kwantlen, Matsqui, Semiahmoo, Semá:th, and Mathxwí First Nations.