Town and Country
From Departure Bay to Neck Point Park and Saysutshun Island there are many places to stop along the ocean's edge, or venture inland to one of many parks and trails with an abundance of unique birding opportunities.
Nanaimo River Estuary
Birding
Nanaimo Estuary Natural Area

1270-1136 Raines Rd

This short trail on the banks of the Nanaimo River offers a host of birding opportunities, all within view of downtown Nanaimo.

Nanaimo River Estuary

1160 Island Hwy

This diverse area is where the Nanaimo River meets the Salish Sea, creating the largest estuary on Vancouver Island.

Hemer Provincial Park

Entry at the end of Hemer Road

Just South of Nanaimo, this forested park includes walking trails and a viewing platform over the marsh perfect for easy-access birding.
Anna's Hummingbird by Shayne Kaye
Cafe
COCO Café

1840 Cedar Rd

Fresh baked goods made in-house daily, as well as specialty coffees, teas, breakfast, and lunch options to dine-in or take with you into the field.
Food
The Crow & Gate Pub

2313 Yellow Point Rd

Deep in the quiet rural countryside just south of Nanaimo, this renowned Tudor-style building houses BC's very first neighbourhood pub.

Hearthstone Artisan Bakery

50 Tenth St #115a

Early birds can stock up on fresh-baked artisan bread, pastries, and cakes, before hitting the road.
Parks and Recreation
Stretching North along the Island Highway, Nanaimo's local parks welcome birders of all backgrounds to slow down, and enjoy the scenery.
Buttertubs Marsh
Birding
Buttertubs Marsh

Entry off Buttertubs Drive

A two kilometre looping trail leads the adventurous through Buttertubs Marsh, with observation decks along the way to rest, and view various birds and local wildlife.

Morrell Nature Sanctuary

787 Nanaimo Lakes Rd

Immerse yourself amongst 278 acres of lush forest dotted with various walking trails, leading past protected Vancouver Island wildlife.

Saysutshun (Newcastle Island) Marine Provincial Park Campground

Ferry leaves from Maffeo Sutton Park

Engage with local Indigenous community members on this island just a short boat ride from downtown Nanaimo – a picturesque place to explore all day, or spend the night at their serene campground.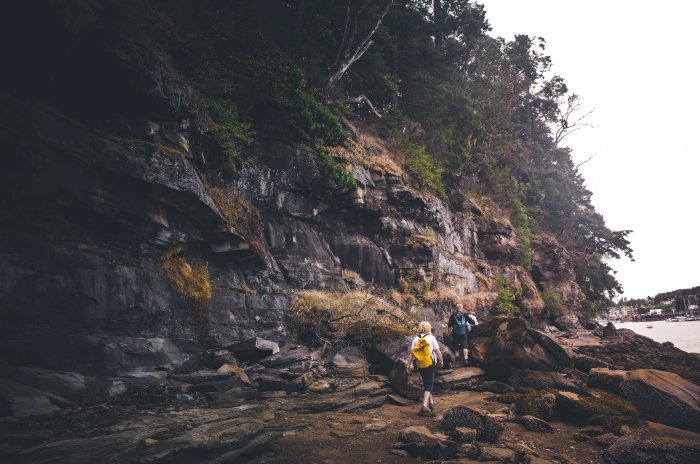 Newcastle Island by Nancy Shields
Cafe
Drip Coffee Social

2835 Departure Bay Rd

Coffee and snacks to go, or sandwiches and pints on the patio – this modern coffee and social house has both.
Food
Mon Petit Choux

120 Commercial St

This French-inspired cafe can help turn a birdwatching hike into a five-star picnic, with fresh, organic bread, pastries, breakfast, and lunch options.

McLean's Specialty Foods

426 Fitzwilliam St

Purveyors of imported delicacies and specialty foods, this local favourite boasts over 150 varieties of cheese from around the world.
Shopping
Strong Nations Books

Ordering from this Indigenous-owned online bookstore supports the local community while extending your learning journey through art and literature.

The Backyard Wild Bird & Nature Store

6314 Metral Dr

This community birding hub has all the essentials for making any backyard a bird paradise. In season, they also offer guided bird walks throughout Central Vancouver Island. 
Eating Well in the Harbour City
We all get peckish after a day, or two, or three, of exploring Super, Natural British Columbia. Thankfully, Nanaimo's growing farm-to-table food scene has plenty of options that cater to any taste.
Gabriel's Café
Cafe
Gabriel's Café

39 Commercial St

The fresh, sustainable, seasonally-inspired breakfast and lunch dishes in this cafe support local farmers from Nanaimo and the surrounding region.
Least Sandpiper by Shayne Kaye
Accommodations
Buccaneer Inn

1577 Stewart Ave

Just around the corner from the Departure Bay ferry terminal, this Nanaimo motel features nautically-themed rooms with a wide range of amenities all along the water.

Book Now

Inn on Long Lake

4700 N Island Hwy

Just north of downtown Nanaimo and close to the Departure Bay ferry terminal, this hotel property features rooms fitted with private balconies or patios offering gorgeous views of Long Lake.
Explore More
Guided Bird Walks hosted by The Backyard Wildbird and Nature Store
Leaves the Birdstore at 9 a.m. on Sunday Mornings
Explore More

Itineraries
Continue
The Central Vancouver Island Bird Trail
The traditional land of the Coast Salish people including the Quw'utsun, Halalt, Stz'uminus, Snuneymuxw, Snaw-naw-as, K'ómoks, and Qualicum First Nations