How the Blue Heron Nature Reserve Society is Working to Restore Chilliwack's Wetlands
In the fall of 2022, we spoke with several experts and leaders at the Blue Heron Nature Reserve in Chilliwack to discuss the work they are achieving in habitat restoration. In our newest Stories from The BC Bird Trail video, we dive deep into the value of rehabilitating and maintaining Canada's wetlands, and the animals that thrive in these essential ecosystems. 
Stó:lō Nation Elder Eddie Gardner walks us through the Blue Heron Nature Reserve, a once barren army training ground that has been restored to its former beauty through the work of the Blue Heron Nature Reserve Society. Eddie graciously discusses with us the process of the restoration project and its impact on the local wildlife, who have happily returned. "We have it within us to take the courage that is needed…to transform and change our way of living," says Eddie, commenting on the collective change that prompted people to come together and restore the area in which the Blue Heron Nature Reserve now stands. We are deeply honoured to have learned so much from Eddie about the ecology and biodiversity of the region, and the importance of coming together with the common goal of caring for the land.
We met with Camille Coray, the Executive Director of the Great Blue Heron Nature Reserve Society who informed us further about the project, its challenges and accomplishments. "It will never return to what it was before," says Coray. Formerly a floodplain, Chilliwack has been transformed over the years, and bird and other animal populations have transformed with it. However, Coray humbly explains that the goal of the project is to restore the functionality of the area. With over 150 species of birds, including at-risk species, salmon, cougars, bears and more, the nature reserve project has proved to be a success story.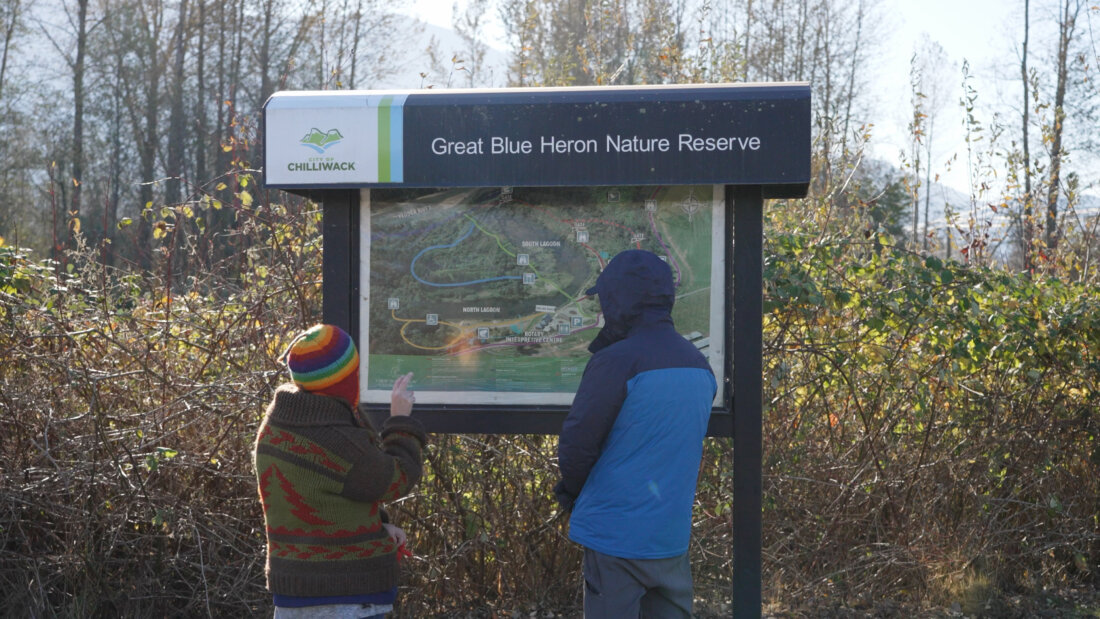 Salmon biologist Matt Foy and environmental educator Dilan Praat discuss the extent of transformation this area has undergone. With salmon gathering to spawn and die, they sustain the life that resides in the reserve. Dilan Praat adds that Great Blue Heron chick survival rates have increased due to a phenomenon known as associative nesting, where heron colonies paradoxically seek protection from one of their main predators, the Bald Eagle. Praat goes on to discuss the balance between agriculture and maintaining the natural environment that is so necessary for an agricultural hub like Chilliwack.
Judy and Fred Mitchell are avid birders and volunteers of Project FeederWatch, an initiative that provides experts with insight into bird populations through participant bird counting and reporting. Judy and Fred discussed with us the joy that has come with bird-watching and their contributions to the project.