Hope you've been practising up on your bird counting skills because your help is needed to create a real-time snapshot of bird populations before one of their big annual migrations!
Join birders across the world for the 25th annual Great Backyard Bird Count (GBBC)! From February 18th to the 21st, Cornell Lab of Ornithology, Birds Canada, and the National Audubon Society are inviting birders of all levels to help contribute to eBird and become citizen scientists.
Anyone can take part in the Great Backyard Bird Count, from beginners to experts. You can also participate from your backyard, your local park, or your favourite place for bird watching.
How Does It Work?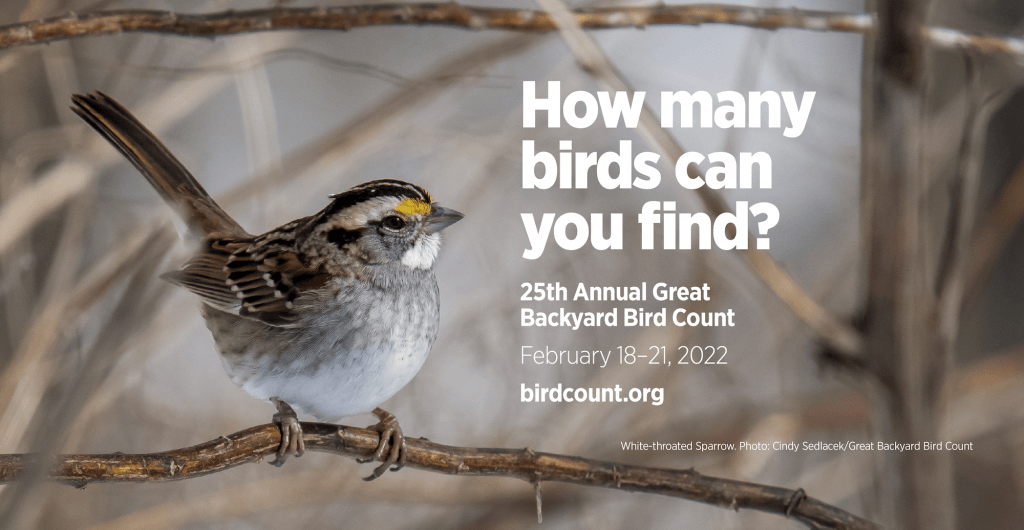 GBBC is asking participants to count birds for a minimum of 15 minutes (or as long as they wish) on one or more of the four days during the event. Report your sightings online at birdcount.org. All entries submitted to eBird or IDs saved through the app Merlin over the four days will also contribute to the Great Backyard Bird Count.
You can watch the live feed as the results come in from around the world throughout the weekend on eBird's website. This feature is also available on eBird all the time, so you can always use it to check out how many birding checklists are submitted and where.
You can learn more about participating through the GBBC website.
Not sure how to count birds? We can help! Check out our Birding 101: Counting Birds post that will help you get the basics down. And if you're curious about how to get the most out of birding in your backyard, check out our Birding 101: Backyard Birding post.
---
Watching birds is a safe and enjoyable activity we can do during the Covid global pandemic. If you are participating in the 2022 Great Backyard Bird Count, please be sure to comply with all current country, province, state, First Peoples' lands, or municipal Covid-19 regulations and guidelines. This includes, but is not limited to, social distancing while bird watching and wearing a mask when birding with others. 
For more information about current COVID-19 restrictions in British Columbia, visit https://www2.gov.bc.ca/gov/content/covid-19/info/restrictions